AERATION SYSTEMS KEY FEATURES
1.
Defend against harmful organisms
2.
Decrease stress and improve fish health
3.
Increase survival and yields
THE SYSTEMS APPLICATIONS ENGINEERING
Poseidon Ocean Systems' Applications Engineering team provides support for the complete specification, selection, design and installation of our products and equipment to support our customers and their operations.
Our team provides comprehensive service and support to not only install equipment supplied by Poseidon, but also to support the integration of new equipment into your existing operations and infrastructure.
Our Applications Engineering teams ensure that new equipment selection, installation and integration are all included in the project scope to simplify the process and have farm operators up and running quickly and efficiently.
FLOWPRESSOR
Poseidon developed Flowpressor technology to revolutionize aeration systems. It is designed specifically to produce a high rate of flow at the right pressure for maximum efficiency. Additionally, it can be connected to your existing networks to offer remote control and data capture functionality.
No electrical feed needed
IOT system architecture for remote monitoring and control
Variable output range of 300-1000 scfm
Compact, mobile design with 40% smaller footprint
24/7 status reporting
Single point lift for hoisting
Integrated spill containment (500L)
Easy maintenance access
Engine useful life of 20,000 hrs
Air compressor components design life 100,000 hrs
15-day battery standby life
Integrated drying and filtration options
Power-Take-Off (PTO) capability
Flowpressor & Oxypressor Technologies
Fuel Reduction
Significant fuel and energy savings compared to conventional systems
Reduced Emissions
Realize peak performance while reducing carbon emissions and fuel consumption
Remote Monitoring
24/7 status reporting and IoT connectivity
Variable Output
Flowpressor is designed to deliver any volume of air you need without sacrificing performance.
Flow–Centric Control
HMI screen displays real-time flow rate and performance metrics.
After Cooling/After Treatment (ACAT)
Our proprietary water separation and treatment process dries the air to prevent water build-up in
downstream piping.
Oxypressor Compatible
Each Flowpressor is out-of-the-box ready to generate oxygen with a simple upgrade.
OXYPRESSOR
Oxypressor is a system upgrade to Flowpressor. Each unit is capable of producing up to 92% pure oxygen at a rate of 2,000 SLPM (155 kg/hr). Simply connect an Oxypressor to an existing Flowpressor and start producing Oxygen immediately. Each Oxypressor offers variable output capability of 1,000 – 2,000 SLPM (77 to 155 Kg/hr), allowing you to only produce as much oxygen as you need, saving fuel and reducing emissions. Multiple Oxypressor units can be connected to produce any amount of oxygen required. The Oxypressor comes out-of-the-box compatible with both conventional and nanobubble diffusion systems as well as Poseidon's breakthrough Depth Charge technology.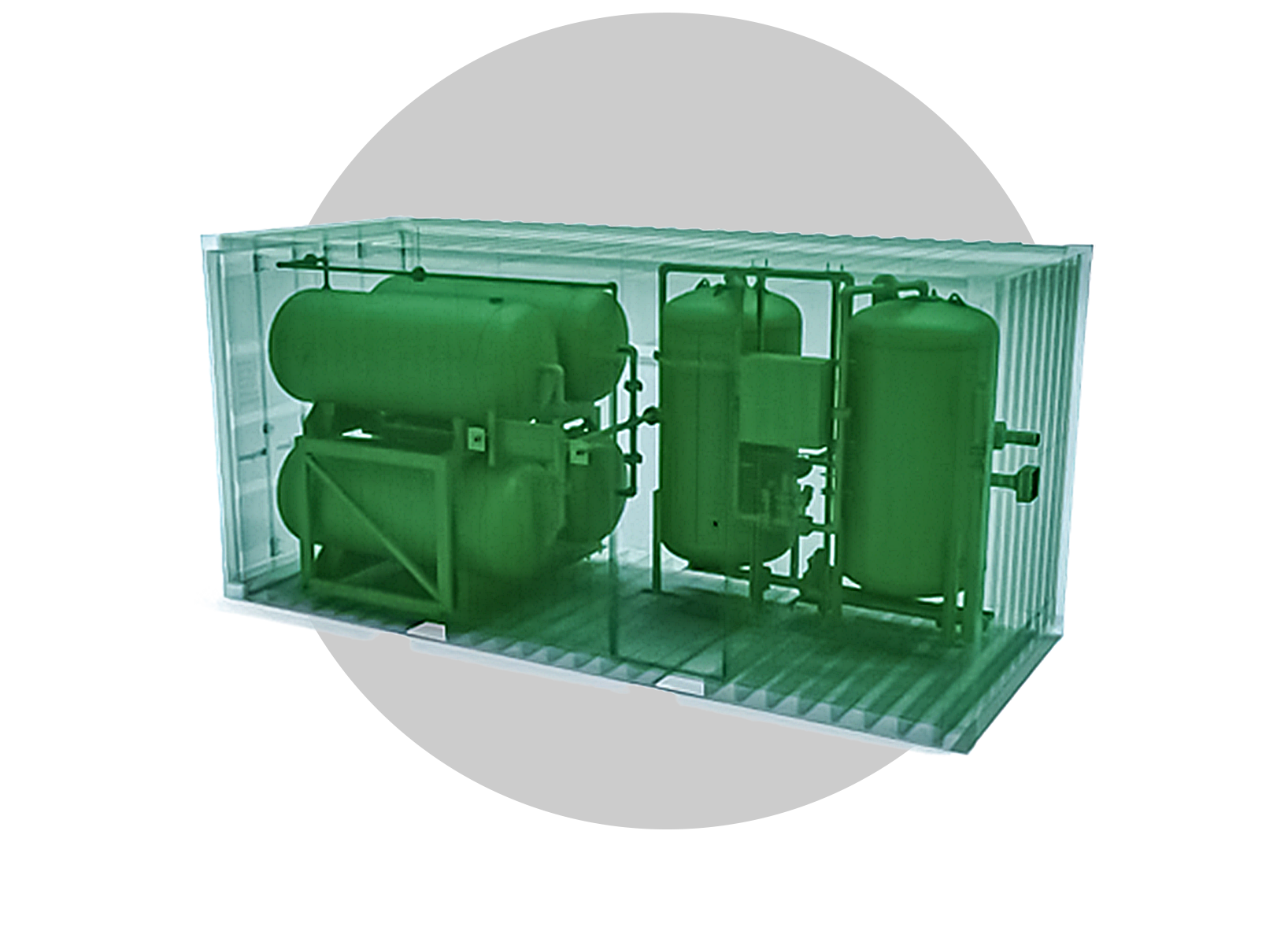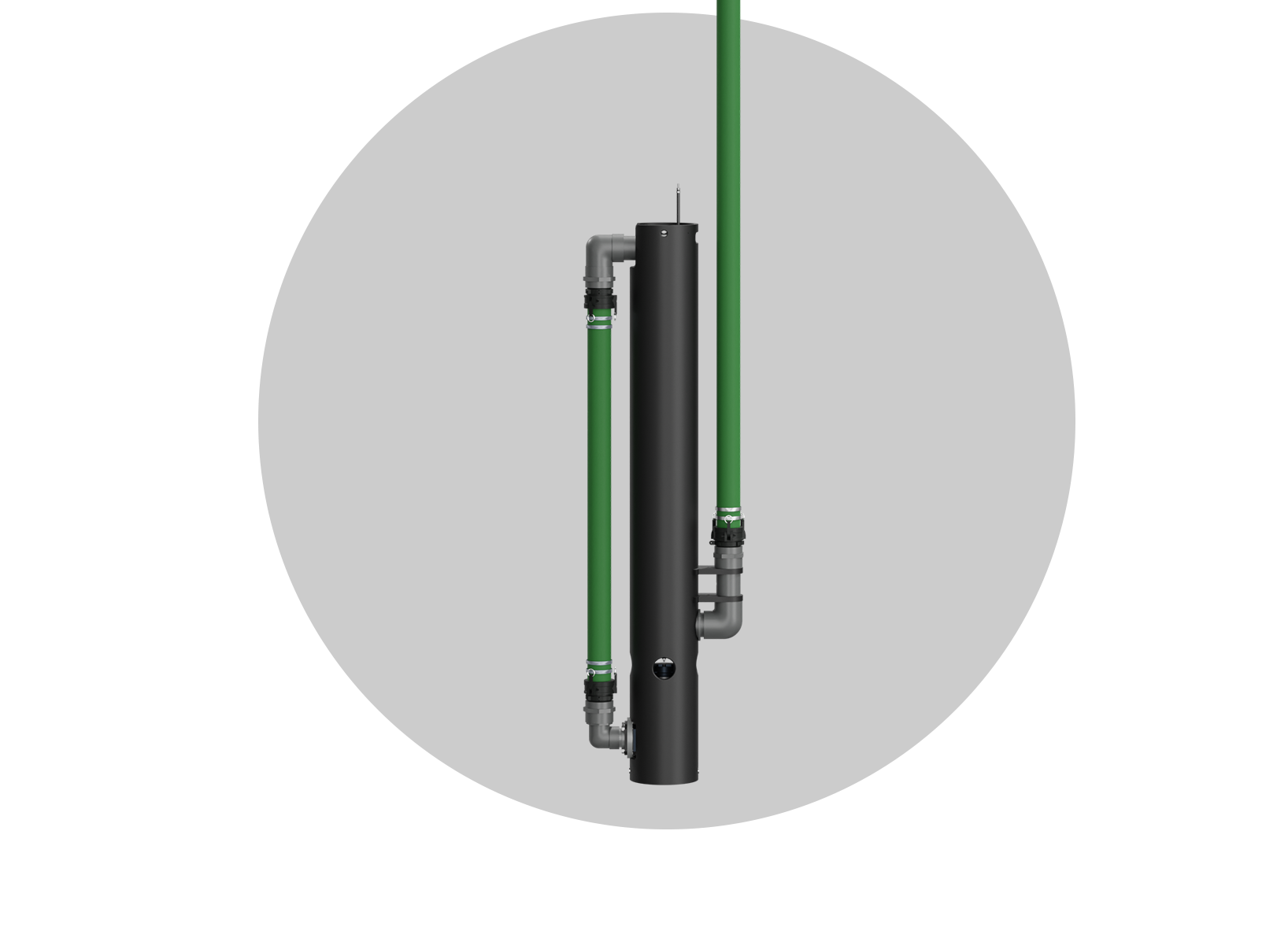 DEPTH CHARGE
Depth Charge is a breakthrough oxygen diffuser technology developed by Poseidon for marine aquaculture oxygenation applications. The patent-pending technology dissolves up to 100% of the oxygen supplied while using a fraction of the energy of other systems, with a measured SAE of 13.6 slpm/kWe. This allows farm operators to use less oxygen and less energy than alternative solutions.
Depth Charge fully dissolves supplied oxygen into the water, ensuring that the oxygen is available for the fish to consume while eliminating wasted oxygen. Depth Charge's proprietary submersible reactor technology outperforms Nanobubbles and other diffusion techniques by a wide margin.
When deployed with Poseidon's Life Support platform powered by Flowpressor and supplied by Oxypressor, the combined system delivers an SAE of 7.2 slpm/kWe.
"The focus shouldn't be on the bubble size, it should be on the efficiency of dissolving the oxygen into the water, which is the only way that it can directly improve the health of the fish.
Depth Charge's submersible reactor technology can be deployed directly inside fish pens or it can be remotely installed on feed barges, oxygen supply barges, or adjacent to the cages. The units are available in a range of sizes to match the oxygenation requirements of each operation, and are easily scalable.
Depth Charge performance can be easily measured using industry standard performance metrics including Standard Oxygen Transfer Efficiency (SOTE) and Standard Aeration Efficiency (SAE). These metrics can be used to compare technologies to determine which is offering the best performance and value for aquaculture operations to consider.
Poseidon's breakthrough ultra-efficient diffusion technology designed for marine aquaculture
100% SOTE
13.6 slpm/kw
Versatile, robust, low maintenance and scalable
Designed to be operations-friendly
Can be used simultaneously with aeration
Monitoring With Sentinel
Poseidon's Sentinel™ software system gives your team real-time access to essential data regardless of the unit's physical location, including:
Air-flow rate
Pressure
Fuel burn
Temperature
And more!
Life Support Accessories Include:
Aeration Flow Panels
Bubble Hose
Diffusers
Anodes
Nano Nozzles
Pressure and Flow Meters
Oxygen Flow Panels
Piping & Valves
Accessories
The full complement of Poseidon's Life Support Systems Accessories are tailor-made to minimize leaks and work within your existing systems to simplify operations.
Your Partner For Sustainability And Profitability
Partner with Poseidon to reduce mortality and increase growth with our advanced Life Support Systems technology.
Our team of engineering and aquaculture specialists are dedicated to meeting your performance expectations while providing unparalleled service and support each step of the way.